Class Structure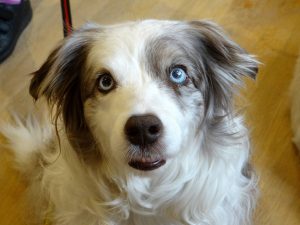 The training takes place inside St. Stephens Church Hall.  We have two training rooms, one for smaller groups and one for larger classes.  The Large Room is used for our main club activities, our Equipment Shop and for the larger groups.  Puppy Classes are usually held in the Small Room allowing for safe, off lead and recall exercises.  Additionally, we have access to a third room, as and when needed.  We do swap classes between rooms, according to each group's training needs.
What To Bring To The Class
Your dog should have a suitable collar, lead and/or harness. Please note we do not allow the use of choke chains, shock collars & retractable, extending leads at the club.  The collar should have an identity tag showing at least your name, house number and postcode (this is a legal requirement). Dog Identity Tags can be ordered from the Club.
Please bring your current Vaccination Certificate to the first lesson.
You will also need:
Dog blanket or bed (for your puppy/dog to sit on
Toy
Treats
Poo bags
Grooming Brush
Feeding Your Dog Before A Class
We recommend that you feed your dog at least two hours prior to the class.  Hopefully, this will encourage your dog to be more responsive with reward based training.
Equipment
We have a small Club Shop selling competitively priced training equipment. We give advice on the correct fitting and use of various leads, collars, harnesses and other training products. 20% of all profit made from sales goes directly to ECDTC's nominated charity.
Dog Training And Children
We encourage children to be involved with the training of their dog but ask that and an adult/parent is present for the training process. With puppies, children over the age of 10 are usually capable of handling and taking full control of their puppy during the class but must always be accompanied by an adult.
Family members and children who are not handling their dog are allowed to watch the class at the Trainer's discretion. Children must not be allowed to run around in the class, touch or stroke any of the other dogs, without the owner/handler's consent. Children under 5, are not allowed in the Club. Please contact us if you need to discuss bringing younger children to classes.