Avoiding a Calamity this Christmas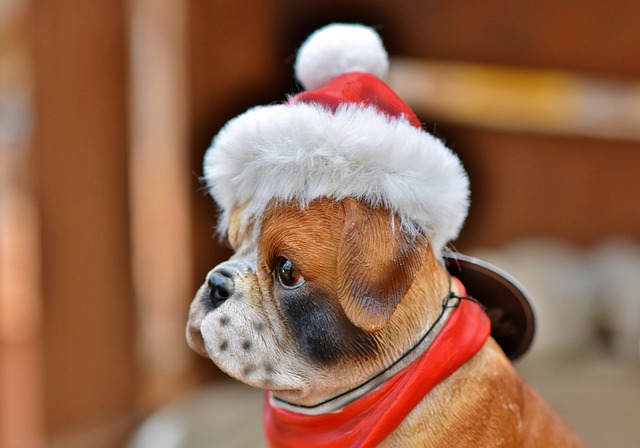 It's  is the most wonderful time of the year as the song goes ?
For our dogs there are dangers everywhere in the festivities. ?
You can give your dog some leftovers such as turkey with no bone or skin. And they may enjoy vegetables. Remember if your dog is not used to these foods they can cause vomiting or diarrhoea so just a little of anything new.
I think everyone knows chocolate is toxic to dogs so avoid putting chocolate decorations onto the Christmas Tree. Our first family dog was a crossbred terrier named Joey. We came downstairs on Christmas morning to find Joey had eaten all the chocolate ornaments hanging from the lower branches of the Christmas tree – but left all the little foil Father Christmases. Joey was ok, he had eaten only a small amount of chocolate.
Mince pies and Christmas pudding contain grapes nuts and raisins which are all toxic to dogs.
Plants such as poinsettia, mistletoe and holly can cause upset stomach in dogs.
Other festive goods such as decorations, wrapping paper and potpourri also pose risks and needles fallen from real trees can get stuck in your dogs paws.
Having all the family round over the holidays can be overwhelming to your dog or they might love the excitement and company especially if children are involved. Just make your dog a quiet place where he can have time out when he gets over-tired.
When my grandchildren were little I always taught them to let sleeping dogs lie. Also not to pet the dogs when they were eating.
Presents for your dog should not include rawhide as it is full of chemicals used to treat it. Also only buy toys made for dogs. In other words don't give them soft toys made for children because inside children's toys are flame- retardant sachets and   They are sprayed with mite repellent. The eyes and other features my be plastic which can cause choking. Buy Kong toys or Nylabone which your dog can chew safely but throw away when they become too worn. Supervision is key.
A flashing collar is s good choice on these dark nights for your dog to be seen when out for a walk.
A great game for Christmas (or any other time) is to hide all your dogs toys around the room and as them to find them!  My dogs Scarlett and Teddy love this game.
If we do have any snow ⛄️ ☃️over the holidays put some paw wax or vaseline on your dogs paws before your walk and wash their paws in warm water when you return. If your pet gets painful ice balls in his paws while out walking gently squeeze his paws with your hands to melt them.
Have fun, stay safe and enjoy this most wonderful time of the year!  ⛄️
Christine ???
https://www.enfielddogtraining.co.uk/wp-content/uploads/2018/12/christmas-3861497_640.jpg
448
640
LWDadmin
https://www.enfielddogtraining.co.uk/wp-content/uploads/2018/03/ECDTC-Logo-Colour1.png
LWDadmin
2020-12-12 16:07:00
2020-12-13 12:33:15
Avoiding a Calamity this Christmas