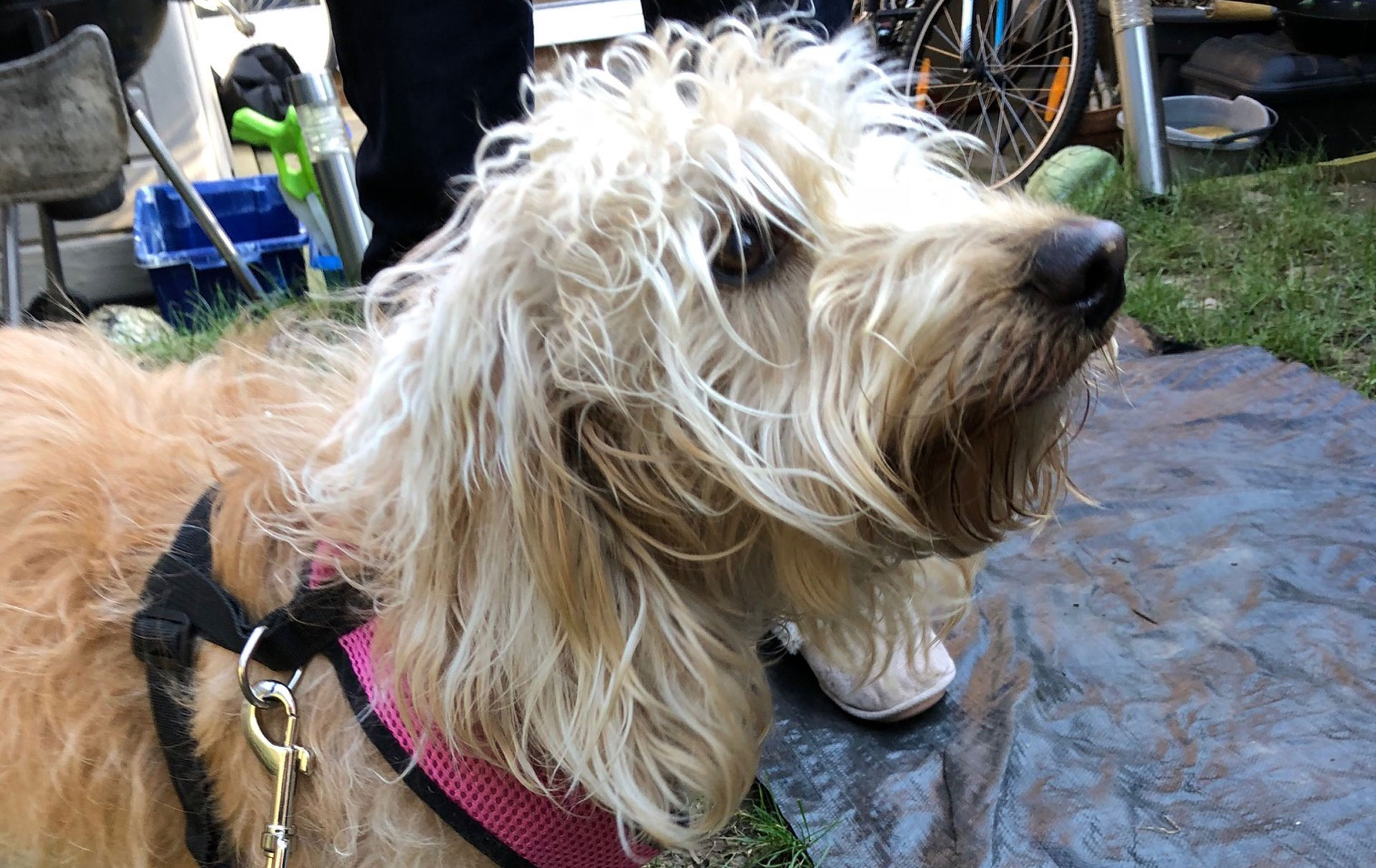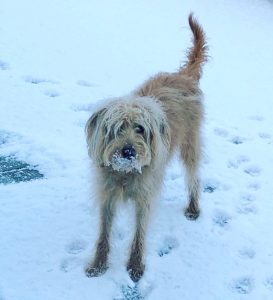 Suitcases packed, kids packed off to grandparents and Trixie's overnight bag all ready for when the dog sitter came to collect her. Andrew and I were heading for a weekend break to Rome. Unfortunately, it did not quite go to plan.
Half an hour after Trixie (our golden mini labradoodle) had been picked up by the dog sitter (one we had used a couple of times last year), we were on our way to the airport in a cab when we received a call to say Trixie had bolted from the woods and that the dog sitter had no idea where she was.
Panic set in and we turned the cab back to head for Coppetts Wood. Unfortunately, Trixie was not very familiar with this wood and neither were we. When we got there, we found a huge unenclosed space filled with brambles and adjacent to both the busy Colney Hatch Lane and busier A406.
We spent a good couple of hours scouring the woods, calling for Trixie – spoke to every person we met and asked them to keep an eye out. Little did we know that Trixie was long gone from the woods by that time.
The first thing I did was call Trixie's vet (Medivet Cockfosters) to tell them she was missing – this was the best way to spread the alert as they have a process to advise their other branches and local vets.
I left Andrew in the woods to keep calling for her and I headed home as Trixie's collar tag has our house number on it. Once home, i started my social media campaign. I posted a quick note and picture, friends had also posted photos and then we all started sharing. I shared to all local Barnet groups I am a member of on Facebook, mums groups, fitness groups, local area groups… i also searched for groups for local dog walkers and Finchley, the area Trixie was lost in, and joined them or requested to join them. 
I then went back to the woods to continue searching – some friends joined me to help and while searching I called the local schools, groomers, Pets at Home, police (101) and the Barnet dog warden (had to leave a voicemail) to advise them about Trixie and ask if they had had any reports. 
Further to the report on the doglost.co.uk site, we received messages from the local
charity volunteers who had advice for us about how to search and where to go…
Including going back to the place she was lost from as she may try to go back, to try and leave our scent in the area and to print and put up as many posters in the area as possible.
A friend posted about Trixie on the Next Door mobile app and a sighting was given on there saying she'd been seen outside Compton School. 
So we definitely knew she'd left the woods.
By this point lots of friends nearby were helping us look for our girl. Either by keeping their eyes peeled while in the area, taking their dogs for walks in the nearby parks and streets or by actively searching. During these searches, a friend was told that someone had seen Trixie running along Woodhouse Road but had run off towards Friary Park when they tried to approach her…
Hearing this made us hopeful but anxious as she would have crossed busy roads and could be anywhere!
Another friend called all the local vets again to advise them about Trixie in case they were not aware. The local dog walker community showed their love, support and force all helping with the search, especially around Friary Park where Trixie may have headed. 
That afternoon and into the evening, we printed posters and drove around pinning them up anywhere and everywhere in the area –  lampposts, phone boxes, bus stops (although these get taken down by the bus company), shop windows, etc. 
We had done all we could on Day 1.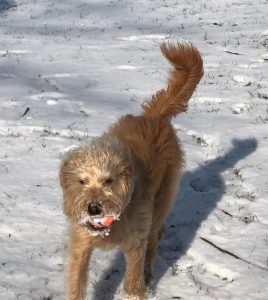 Early the next day, after no sleep, we followed the advice of a charity volunteer and Andrew walked from home to where Trixie had been lost carrying her blanket so as to leave a detectable scent that Trixie might follow. I was still printing and putting up posters and continued the sharing on social media including whatsapp groups, instagram, etc.
Later that morning, while driving around searching, we received a call about a sighting after someone had seen our poster in the Friern Barnet area. We headed straight to the location – kept the car running as Trixie might recignise the sound of the engine (as advised by a volunteer) – put up more posters around the area, spoke to more local people and searched and searched. But nothing.
Friends shared the post to groups local to Friern Barnet and a couple of hours later another sighting rang through of Trixie within the grounds of Princess Park Manor – which is next door to the other sighting. We headed straight for this area and practically spent the rest of the weekend searching there as there were no further sightings. Friends brought their dogs to the complex to scent out Trixie or for Trixie to recognise them but we were having no luck. We searched adjacent housing estate areas  and the surrounding bushes, bin huts, under cars – but nothing. 
Following further advice from volunters, that night, we left some items of clothing with our scent at the entrance to Coppetts Wood and Andrew spent the night in Princess Park Manor with the car engine running and Trixie's bed and scented items outside next to the car. 
I was at the woods at 5am to see if Trixie had made her way back there but unfortunately none of these tactics seemed to have worked and the next morning we were still at a loss.
By this time, the advice we were getting was that Trixie would by now be in survival or flight mode and that we shouldn't call her name while searching as this risked scaring her and that she shouldn't be approached by strangers.
We continued the search around the Friern Barnet area. The support and help we received from the local community, friends and family was overwhelming – all searching, sharing and praying with us. 
More posters went up – at nearby allotments, park entrances, housing estates, school entrances… the whole time I continued with the social media effort – joining more groups, dog walking groups, vet groups, dog lost and found groups – sharing the posts all the time. 
We also looked into some tracking services ( dronesarforlostdogsuk facebook group and k9tracker.co.uk)…
Around lunch time on Sunday, we were searching again in Princess Park Manor when my husband received a call from a lady to tell us that there was a dog matching Trixie's description in their next door neighbour's garden (neighbours were out and did not own a dog) – her son had spotted the dog, told his mum who remembered seeing something on Facebook… She found the post in one of the local Finchley groups and called us – we jumped in the car and drove to their address about 1.3 miles away in Finchley where the fanily showed us through to their garden where they had a stepladder waiting. My husband saw Trixie and confirmed it was her! Trixie recognised Andrew and what followed was the most emotional reunion ever!  She bounded to him and could not contain her excitement! Fortunately, she seemed healthy but hungry and the kind family were able to give her some food. We brought Trixie straight home for lots of love and attention.  She had lots of visitors that afternoon and ate loads!  The vet gave her the all clear and she is now the proud wearer of a tracking GPS device (Tractive 2)! 
After an emotional rollercoaster of a weekend going from utterly distraught, dejected and losing hope to elated and believing in miracles, we then had to update all the social media posts, ring around all the companies and vets we'd called, call the microchip company, register Trixie as found on all the dog lost sites and we also had to take down all of the posters we had put up! But it was all worth it to have our girl home with us again! 
A very surreal experience from which we learned alot about alot of different things!
Main thing being, never to lose hope and to believe in the power of humanity and kindness. 
https://www.enfielddogtraining.co.uk/wp-content/uploads/2018/03/6eipi0x0.jpg
1211
1920
LWDadmin
https://www.enfielddogtraining.co.uk/wp-content/uploads/2018/03/ECDTC-Logo-Colour1.png
LWDadmin
2018-03-26 09:20:37
2018-03-26 09:53:55
TRIXIE'S STORY