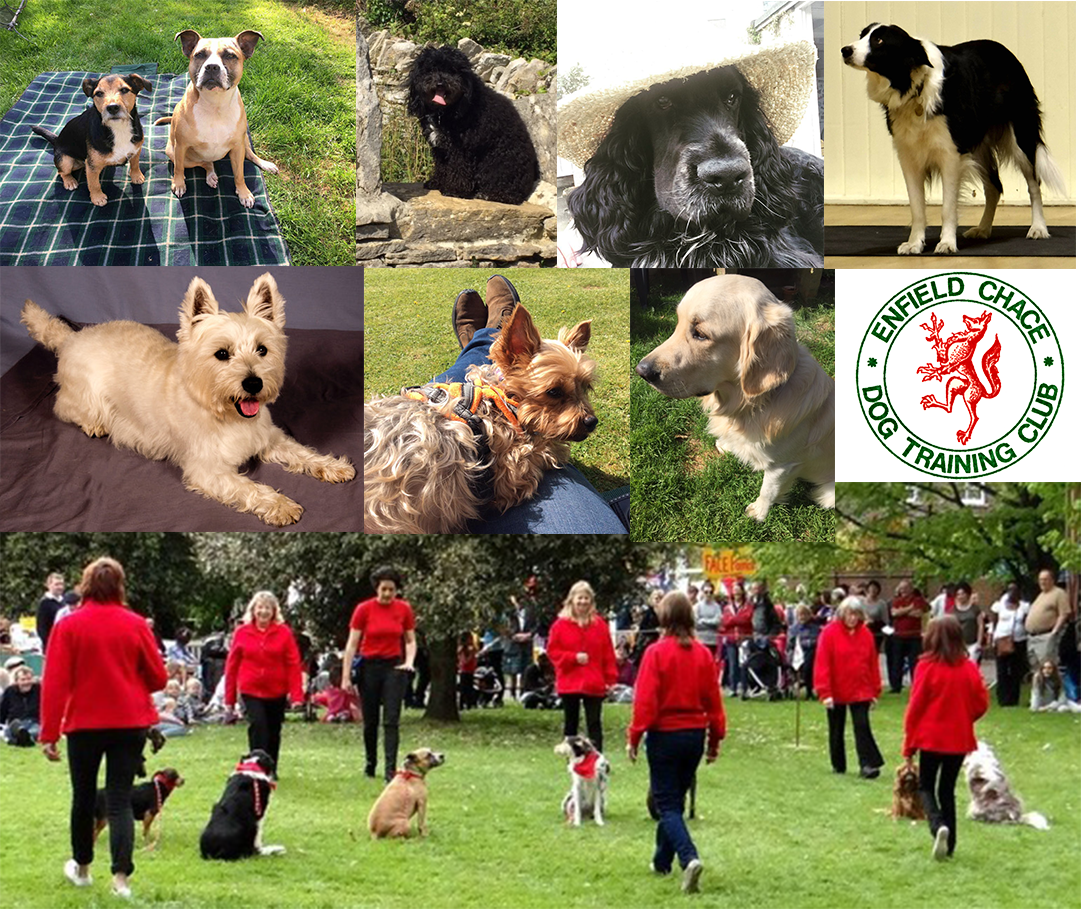 ABOUT THE CHARITY
Dogs for Good provides three services – Assistance Dog: training assistance dogs to support adults and children with physical disabilities and children with autism; Family Dog: providing advice and support to people on how their pet dog can benefit their whole family; Community Dog: training activity and therapy dogs and their specialist handlers to work in communities and schools. read more
MAY DAY FAIR, SOUTHGATE GREEN, MONDAY 1st MAY 2017
Our dogs will be putting on a display at 3pm, please come and meet us and the dogs.
ECDTC FUN COMPETITION AFTERNOON, SUNDAY, 21 MAY 2017 – 2-6
This is a fun, family afternoon for dogs & handlers to compete against their classmates. It's a good opportunity to meet members and other people involved with the club, plus see their dogs in action. Please bring the family and help raise funds for our current Charity – Dogs For Good
Refreshments
Trophies
Rosettes
Raffle
Prizes
RAFFLE PRIZES NEEDED
We need prizes for the Club Competition Day Raffle on Sunday, 21 May.
All donations are gratefully received but we would specifically ask for anything suitable for the following hampers. Please bring any items along to the club prior to Sunday, 21 May.
THE AFTERNOON TEA HAMPER
Teas, Coffee, Biscuits, Preserves, Bubbly, China etc
THE DOG'S DINNER HAMPER
Treats, Toys, Blanket, Bowl etc etc
THE SPA DAY HAMPER
Beauty or pamper products
CROQUET & AFTERNOON TEA – SUNDAY, 2 JULY 2017 2-6
This annual event is held in a private garden and is a Charity Fund Raiser.
FURTHER INFORMATION AND TICKETS ARE AVAILABLE AT THE CLUB
PLEASE NOTE: NO DOGS ALLOWED AT THIS EVENT
CROQUET
TREASURE HUNT
RAFFLE PRIZES
TRADITIONAL AFTERNOON TEA
ECDTC ANNUAL SUMMER PARTY
THE CLUB'S SUMMER PARTY FOR DOGS & HANDLERS WILL BE ON WEDNESDAY, 2 AUGUST IN THE MAIN HALL –
MORE DETAILS TO FOLLOW
AUGUST CLOSURE DATES
THE CLUB WILL BE CLOSED ON THE FOLLOWING DATES:
9, 16, 23 & 30 AUGUST – REOPENING 6 SEPTEMBER 2017
Congratulations to the Club's President, Peter Dyer and his German Shepherd Dog, Jess on obtaining Tracking Dog Excellence (TDX) Award. This is the highest qualification in Working Trials. Peter has been working & training his dogs in this event for many years and is "over the moon" that he has finally achieved it – after 47 years!
Working Trials are a competitive sport based on the civilian equivalent of police dog work. They develop and test many canine skills – obedience and control, intelligence and independence, searching and tracking, agility and fitness. Trials are physically demanding for both dog and handler, but are also great fun and extremely rewarding.
More information on Working Trials can be found on the Kennel Club's website under "Activites" read more
CONGRATULATIONS TO THE FOLLOWING DOGS & HANDLERS ON ACHIEVING GOOD CITIZEN AWARDS THIS YEAR (JAN -APRIL 2017)
Copyright © *|CURRENT_YEAR|* *|LIST:COMPANY|*, All rights reserved.
*|IFNOT:ARCHIVE_PAGE|* *|LIST:DESCRIPTION|*
Our mailing address is:
*|HTML:LIST_ADDRESS_HTML|* *|END:IF|*
Want to change how you receive these emails?
You can update your preferences or unsubscribe from this list
*|IF:REWARDS|* *|HTML:REWARDS|* *|END:IF|*
https://www.enfielddogtraining.co.uk/wp-content/uploads/2018/03/enfield-puppy-training.png
909
1081
LWDadmin
https://www.enfielddogtraining.co.uk/wp-content/uploads/2018/03/ECDTC-Logo-Colour1.png
LWDadmin
2017-04-14 16:07:54
2018-03-14 16:33:12
ECDTC CLUB APRIL 2017